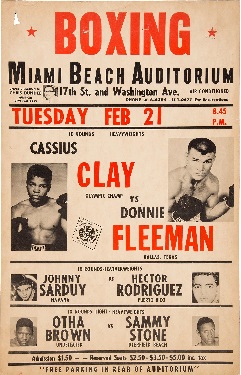 History by Fight Poster
This fight took place at The Miami Beach Auditorium on February 21st, 1961 – it was Ali's (Clay's) fifth fight; first with Donnie Fleeman. Fleeman RTD after six rounds.
The venue, The Miami Beach Auditorium, is today called The Fillmore Miami Beach at the Jackie Gleason Theater; a strange venue for a prize fight because it is a traditional proscenium stage which means that the vast majority of the audience would be sitting on one side of the ring only. It does have quite a large stage though and they could have put another 200+ elite seats on the stage-side the ring as well.
The general admission price of $1.50 seems inexpensive, even for 1961; if you take the 1961 minimum wage of $1.35 as a reference and compare it against a $15.00 minimum wage today, it extrapolates out to around an $17.50 ticket; which seems inexpensive. (Granted it is always dangerous to use only one item in an 'inflation rate market basket.')
Today the promise of 'free parking in the rear' reads as a hoot. The arena is in the South Beach area and 'while much is available to entertain the visitor, parking is at a premium.
The Dundees: The fight is a Chris Dundee promotion (The 4th Street Gym); it looks as though the older brother provided the venue and the club fighters, while the younger brother Angelo brought in the budding super-star, Clay, to build the card around. (I always thought it interesting that Liston was willing to take a Miami Beach fight defense (Liston-Clay I) knowing that it was the Dundee brother's and Ali's backyard.)
On the undercard John Sarduy defeated Hector Rodriguez by PTS over ten rounds. Sarduy has an interesting story; hailing out of Cuba with a lifetime record of 33-7-4, he fought, between 1955 through 1960 almost exclusively in Cuba; that is until Fidel Castro appeared and outlawed professional boxing. It then looks like Sarduy migrated to Miami during the great Cuban exodus of '60. - He fought his last fight in Havana in September of 1960 and then appears in Miami on January 31st of 1961. He would fight only twice in Miami and then stop fighting altogether; both were victories over Hector Rodriguez.
From a fight fan's perspective the opponent Hector Rodriguez has an even more interesting story; he must have been a classic 'opponent.' Rodriguez's lifetime record is a dismal 16-35-1, but in those 35 loses he was stopped only five times; he must have been a promoter's dream come true; (you could depend on this guy to lose for you when you needed it, but you were pretty much guaranteed he would go the distance.)
Hector Rodriguez seems to have had two careers as an 'opponent,' first fighting almost exclusively in the Miami area from '58 through '62 – he then disappears for a year only to reappear in the New England area, where he again fights almost exclusively in that area only, campaigning for another 24 fights.
It looks as though he may have worn out his welcome in Miami and decided to take his unique talent for habitually losing, north. Over one span, in the New England area, Hector dropped 13 fights in a row, but with no stoppages, going the distance every time. (I'll bet this guy was a local fan favorite; winning once every year, his rare and unexpected victories must have excited, or at least amused the regulars.)
Otha Brown did not fight Sammy Stone, but instead fought what looks to be a last minute replacement; one Cliff Morris, whose lifetime record reads 0-3-1. Somehow the limited Morris extended the undefeated Brown the distance (10 rounds); No weightclass was noted for the fight. Brown did eventually catch up to Sammy Stone two years later, at the same venue, winning a ten rounder on PTS.
One last thought, I find it amusing that they mention that the venue was 'air conditioned.' Air conditioning in 1961 must have still been a luxury item, especially in the Miami area.
Oh! I called the 'reservations' number at 305-538-4303, a lady answered "epicure." Likely a restaurant toady, I guess.